Would you like to honor a loved one?
There are many options for supporting the G.E. Bleskacek Memorial Bloomer Public Library.
Our mission is to provide resources and services that inspire people to explore, learn and connect.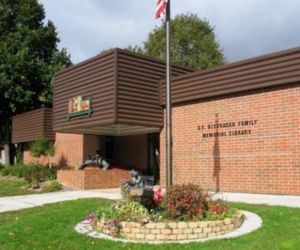 Gifts & Donations
A special way to honor friends and loved ones, and at the same time support your community, is to have books or other materials purchased for the library with your donation.
You may choose to do this to celebrate:
Birthdays
Birth of a child
Retirement
Someone's life (Memorial)
Other Special Occasions
You may designate how you would like your donation to be spent by the library.
Any books bought in memory of loved ones will have a special name label added to each item purchased.
You will be sent a letter of receipt for your tax-deductible donation at the end of the year.
Memorials & Endowment Funds
Individuals or organizations may wish to establish memorial or endowment funds by giving a considerable donation to purchase materials in honor or memory of someone special over an extended period of time. If you are considering doing this, please feel free to contact the Library Director.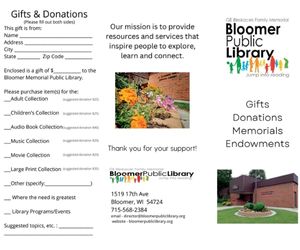 Printable Brochure
View and print the brochure to if you would like to make a donation.