Access
Library cards are FREE and available with identification and proof of address.
Digital Library cards allow you access to Wisconsin's Digital Library, which offers eBooks, digital audiobooks, digital magazines, and movies. Sign-up here 
Internet computers are available for use with a library card.
Free wireless internet is available inside the building and from the parking lot.
Our Printing Center is available for printing, copying, faxing, and scanning.
Microfilm reels of The Bloomer Workman and The Bloomer Advance newspaper (1885 through 2010) have been digitized and can be viewed online wherever you have internet access.
Our Kids Area has a loft with toys, and a scavenger hunt is available anytime we are open! 
Our Meeting Room is available to schedule for small non-profit groups.
Materials
Books, audio books, movies, music CDs, Wii games, magazines, hotspots & more are available to check out with your library card!
Curbside pickup is available for anyone who prefers it.
Your card also gives you access to Wisconsin's Digital Library eBooks & eAudio Books though Libby and eMagazines through Flipster. These free apps can be downloaded from your smart device's app store.
View digital library resources.
The Bloomer Public Library is a member of the MORE System which provides access to millions of additional titles from 50 different libraries!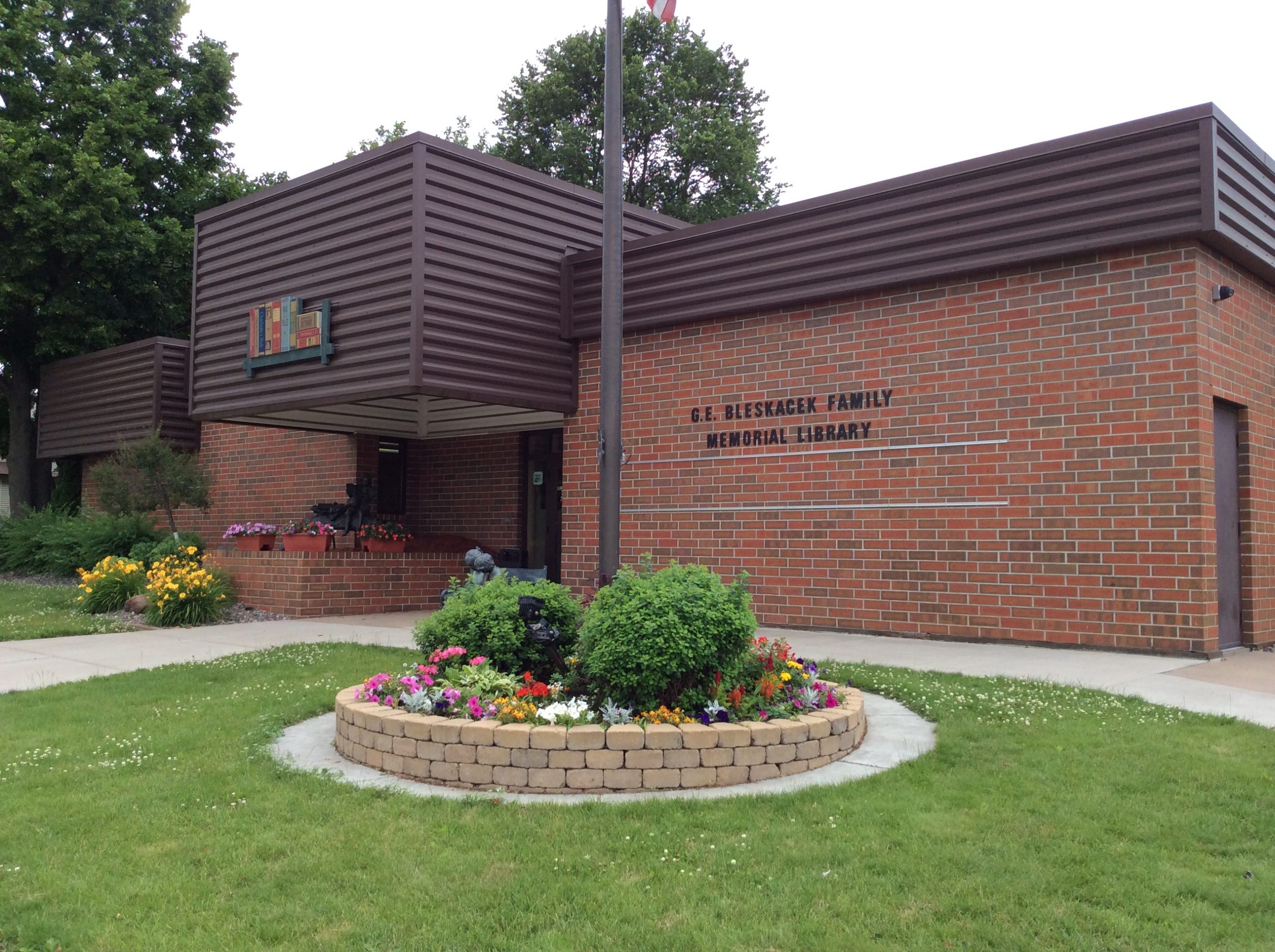 Our mission is to provide resources and services that inspire people to explore, learn and connect.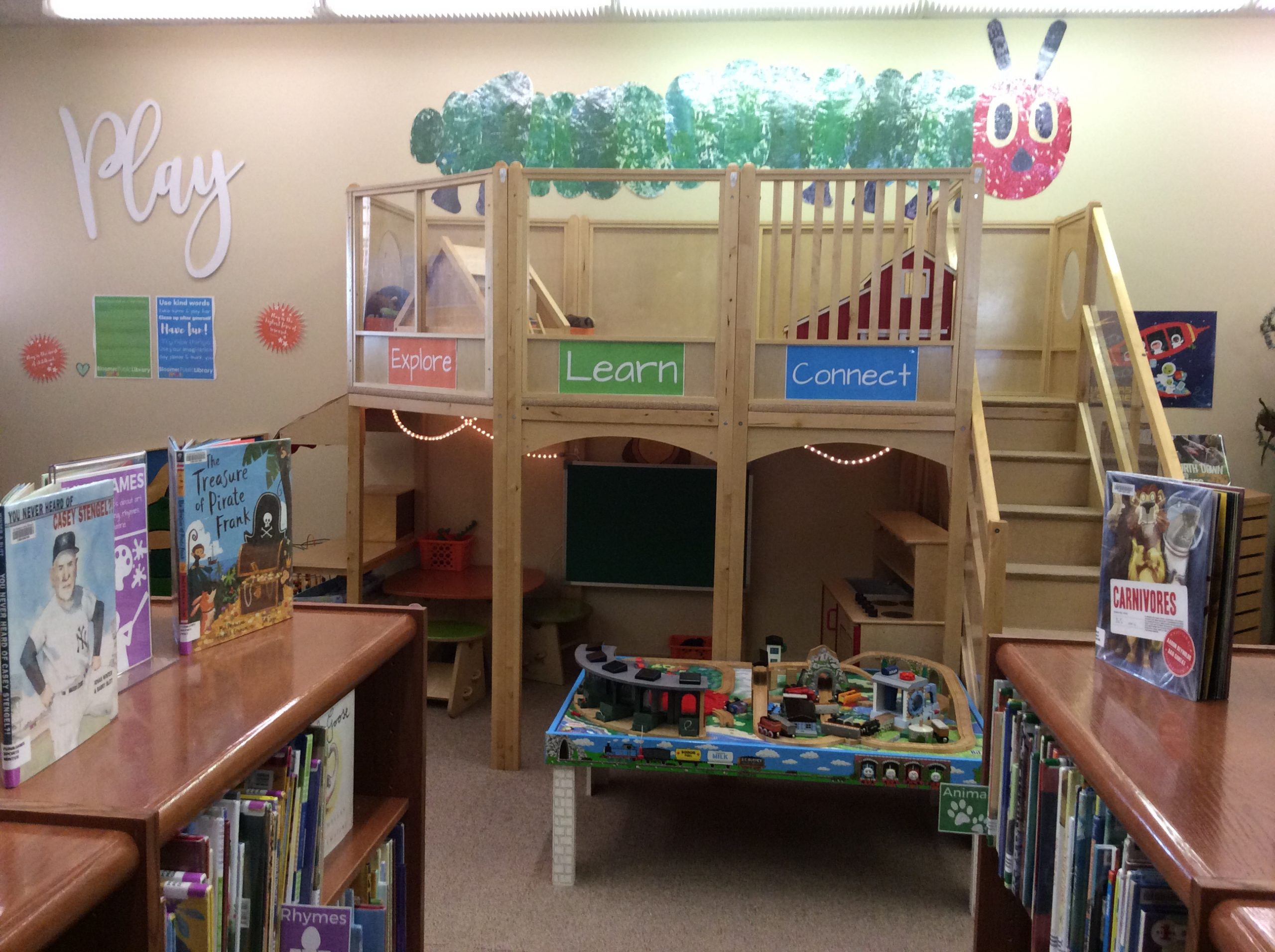 Your Title Goes Here
Your content goes here. Edit or remove this text inline or in the module Content settings. You can also style every aspect of this content in the module Design settings and even apply custom CSS to this text in the module Advanced settings.
Library Services Policy
The G.E. Bleskacek Family Memorial Library provides access to information and entertainment to all residents and visitors of the Bloomer community through our resources and programs.
The library strives to provide excellent and welcoming customer service to all library users. Library staff seek to give everyone attentive service, treating each person with equal respect and each request with equal importance.
Borrowing Services
The library provides library cards that are free to all newly registered patrons and can be used to check out materials. See our Borrowing Policy for complete guidelines.
Technology Services
The library provides public computers that are available for patrons. See our Internet Policy for complete guidelines.
The library provides a copy machine that is available for patrons. Copy machine users are advised that there are restrictions on copyrighted materials. Any violation of copyright is the responsibility of the user.
Patrons may use the copy machine to print, copy, or scan documents on their own; staff are also available to help patrons with these tasks. Black and white prints and copies are $.15 per side. Color copies are $.50 per side. Scanning documents is free.
Faxing should be completed by staff. Outgoing faxes are $.50 per side. Cover sheets will be provided by the library at no charge. The library does not receive incoming faxes.
Information Services
The library provides free reference and reader's advisory services to help people find information and use library and other information resources. Library staff uses library collections and online resources as well as sources beyond the library to fulfill patrons' informational needs.
Reference and reader's advisory questions are considered confidential. Staff will handle inquiries with a focus on privacy, professionalism, and courtesy.
Staff may assist as they are able in helping patrons with computer resources and applications. When assisting patrons on the computer, staff will not enter personal information for patrons.
Staff are unable to provide the following kinds of assistance, which are deemed to be beyond the scope of the library's service responsibilities:
• Interpretation, advice, or personal recommendations in any area other than the use of library resources. This includes legal, medical, financial, or tax advice.
• Critiquing or editing patron documents, including resumes for job seekers.
• Completing forms, including online forms, for patrons.
• Competing online purchases or contracts for patrons.
One-on-one assistance may be available to work with staff on individual information needs. Staff instructional sessions may include instruction on using the internet, databases, and specific electronic devices. Staff reserve the right to schedule appointments as time permits. The library reserves the right to limit the number of questions or amount of time a staff member can spend helping individual patrons.
Programming Services
The library supports its mission to provide resources and services that inspire people to explore, learn, and connect by developing and presenting programs that provide opportunities for learning and entertainment.
Programming is an important component of library service that:
• Expands the library's role as a community resource
• Introduces library users and non-users to library resources
• Provides entertainment to the community
• Provides opportunities for lifelong learning
All library programs are free and open to the public. Registration may be required for planning purposes or when space is limited. Programs may be held on site at the library or off site. The library does not deny access to library programs if a person owes fines or fees or does not have a library card.
Planning and coordination of programming is done by library staff based on interests and needs of library users and the community. Library users and local community members may recommend topics or speakers for consideration.
The library may partner with other community agencies, organizations, institutions, or individuals to develop and present co-sponsored public programs. Professional performers and presenters that reflect specialized or unique expertise may be hired for library programs.
Programs sponsored by the library within the library or at off-site library sponsored events may be photographed or video-recorded by the library staff or its representatives. Attendance at a library sponsored program constitutes the consent of all attendees and the consent of the parents or legal guardians of any minor children in attendance, to the future broadcast, publication, or other use of photographs or videos at the sole discretion of the library. The library may utilize photos and videos from public programs and events at the library and at off-site library sponsored events on its website, social media and in library publications. To ensure the privacy of all individuals, images will not be identified using full names or personal identifying information without the written approval from the photographed individual, parent, or legal guardian. Participants may request in writing that their image not be used by the library.
Sales of products at library programs must be approved by the library director. Programs are not used for commercial, religious, or partisan purposes or the solicitation of business. While commercial sales are not allowed on library property, exempt from this are musicians, authors, film makers, and performers who perform or present. Before or after the presentation they may sell their work and related merchandise unobtrusively. The library supports the rights of authors and other creators of literary, musical and artistic works to sell their works as part of a program to the public.
Borrowing Policy
A core service of the library is the loan of materials. Our library does this by giving those who have library cards access to our collections as well as the collections of the libraries of the MORE consortium and Wiscat (Wisconsin's Resource Sharing Platform).
Library Cards
Free library cards will be provided to anyone of any age. To receive a library card, applicants must present identification and proof of address. Proper identification includes a driver's license, state ID card, student ID card, or any other official ID. Any non-personal piece of mail may be used for proof of address if current address is not listed on the ID.  
Temporary cards may be issued to patrons who do not have proof of address and may be used to check out a maximum of three locally owned items per visit.
Children under the age of 18 need their parent or legal guardian to sign their card registration and provide ID and proof of address. Parents and guardians are responsible for the items checked out on their child's card and any fees that may accrue.
Patrons should bring their library cards with them if they intend to check out items. Patrons without their card will be asked to show ID. If they have no ID, they will be asked to verify their birthdate to ensure the correct account.
Lost and Replacement Cards
Lost or stolen cards should be reported to the library. Unless a card has been reported lost or stolen, library staff will assume that possession of a library card by an individual implies that the cardholder authorizes that individual to borrow items on the card.
Stolen or worn cards will be replaced for free. Lost cards will be replaced for a $1 fee. Staff may also choose to waive the fee at their discretion. Parental signatures are not required for children who are renewing or replacing lost or damaged cards.
Confidentiality of Library Records
As described in Wisconsin State Statute §43.30, public library records that identify the names of library users, especially as they connect users with materials or services used, are confidential. Library records for individual users are for the sole purpose of protecting public property. No library records shall be made available to the public, press, or a governmental agency, except by such process, order, or subpoena authorized by federal, state, or local law.
Rights of Minor Patrons  
The library does not restrict any library patrons under the age of 18 to certain collections or areas of the library and library staff cannot serve in place of the parent. In accordance with the American Library Association's statement, "Free Access to Libraries for Minors" the library maintains that parents and/or legal guardians have the right and responsibility to restrict access of their children – and only their children – to library resources. Parents or guardians who wish their children not have access to certain materials should accompany or otherwise advise their children.
 Item Loan Periods
Three week items: books, CDs, video games, magazines, and puppets
Two week items: high demand books, DVD TV series, and hotspots
One week items: DVD movies
Items from any MORE library may be renewed twice if there is not a waiting list for them. Local items may be renewed by staff more than twice if there is not a waiting list.
Items on Hold
Patrons need to either pick up their own holds, give their library card to the person they want to pick up their hold items, or designate who has permission to pick up their hold items by filling out the Holds Pickup Permission Form that is available at the Checkout Desk. Anyone listed on the form who is picking up hold items may be required to show ID.
Overdue Items  
Late fines are not charged for items checked out at our library. Other MORE libraries may charge late fines on items checked out at their libraries, depending on their policies.
If an item is not returned within the designated loan period, overdue notices will be sent at 7 and 14 days, followed by a bill at 28 days for the replacement cost of the item.
If a hotspot is not returned within the designated loan period, overdue notices will be sent at 2 and 5 days, followed by a bill at 7 days for the replacement cost of the item.
Items will not be checked out to any patron with replacement charges on their account.
Damaged Items
Patrons are responsible for all items checked out on their card, and are liable for any losses or damages that may occur to library items. The library will notify the patron of payment due for the replacement or repair of the lost or damaged item.
Library items are considered damaged beyond use if the item is returned with obvious signs of damage such as, but not limited to: liquid damage, torn or marked covers or pages, and missing or damaged parts.
Internet Policy
The G.E. Bleskacek Family Memorial Library makes the internet available to its patrons to meet the personal, professional, and educational needs of the community.
The library does not monitor and has no control over the information accessed through the internet and cannot be held responsible for its content or accuracy.
Internet resources may only be used for legal purposes by the public and library staff. Examples of illegal or unacceptable uses include, but are not limited to:
• Display of sexually explicit or pornographic materials
• Harassment or privacy violations of other users
• Destruction or damage to equipment, software, or data
• Unauthorized copying of copyrighted materials
The library does not act in place of the parent and is not responsible for enforcing any restrictions which a parent or guardian may place on a child's use of this resource.
Failure to comply with this policy or with library staff directions will result in restriction or termination of the user's internet and/or library privileges and may result in prosecution under local, state, or federal laws.
Public Computers
Computers with internet access are available for an hour per day on a first-come, first-served basis.
A library card is needed to access computers. If a registered patron does not have their card with them, the library will accept an alternative form of ID to look up their card number. Guest passes may be issued for nonresidents or at staff discretion. Passes will not be issued to anyone under age 16 without parent or guardian permission.

Wireless Internet
Patrons using their own devices to access the internet through the library's wireless connection or accessing the internet in the building through any other means are subject to this policy.
The library's wireless network is not secure. Virus, security, and privacy protection are not provided by the library. Responsibility for the safety and security of a user's data files or personal devices rests with the user.